BANNACK DAYS – Every Year the 3rd weekend in July at Bannack State Park in the Big Hole, Montana
The photos to the left were taken at Bannack State Park, in Bannack , Montana.  The 3rd weekend in July each year a group of us numbering around 400 come to Bannack and set up the town. There is a blacksmith, cavalry encampment, mountain man encampment, gold panning, horseback riding, dutch oven cooking, butter making, shoot outs, a stage coach robbery and the list goes on and on.  That weekend the buildings are full of "shops" to see demonstrations of skills of that time and some items can be purchased. There is reasonable food available and the price was $5 a CARLOAD last time. As far as we know that has not changed.  There are many horse drawn conveyances traveling up and down the street for your convenience.  Things are handicap accessible and everyone is there to show you a good time and give you a chance to learn about the past. Gold panning is free and there are folks to show you how to do it. Here is a link to their website for more information. See you there… We are in the Ratalack House (white washed one across from the church).
http://www.bannack.org/bannack_days.htm
---
---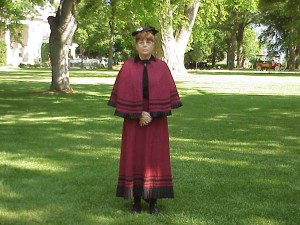 Rae Ann was out for a stroll at the Daly Mansion in Hamilton, Montana.She is wearing a burgundy moire' skirt and mantelet with bridal satin lining, a velvet collar, and bengaline pleated hems on both skirt and mantelet.  The mantelet features a frog closure at the neck and both pieces are trimmed in lovely gimp. Just an 1890′s lady out on a lovely spring day!