Fur Trade Era Clothing & Products for Men, Women and Children
We have gone to great lengths to select historically correct patterns and authentic reproduction fabrics for the production of our Fur Trade Era clothing. Many of our shirts and dresses are in the wardrobes of Historic rendezvous and reenactment participants around the country and in the wardrobes of American Fur Trade Era enthusiasts in Europe and Australia. We keep a selection in stock, but custom orders can be filled quickly. Just email us  for more information. We are very happy to discuss your clothing needs with you on the phone at 406-961-4317.
Our clothing makes great costumes for theme parties and theatrical performances too!  Some customers have framed buckskin garments and hung them on the walls of family rooms and lodges too.
There is so much to say about the clothing and accessories of this time period and it is hard to know where to start.   So I will begin with some details about our buckskins that might be of interest to anyone wanting to purchase them.  It will certainly help you tell quality workmanship when you see it.
All of our buckskins are completely hand sewn.  Each piece of clothing is cut from a pattern based on that customers measurements and choices.  Customers  can choose between our standard, commercially tanned hides or german tanned hides.  The german tanned hides are so close to brain tanned in appearance and feel that even we are hard-pressed to make any distinctions.  Commercially tanned hides are less expensive and have one membrane side and one sueded side.  The german tanned hides are elk, are thicker and are suede on both sides.  Hide colors can vary from hide to hide as these were animals and skins from different individuals take the process differently.  There is also some variation between batches.  None of this is an issue as the mountain men and native americans who tanned hides got the same kind of results. Often hides of various shades were even sewn together in the same garment.  We can also get commercial hides in white and various shades of tans and some browns upon request.  There is an extra charge for special color/order hides which we can quote upon request.
Taking measurements accurately is very important.  We are happy to help in any way, even to talk you through the process on the phone or by email.  In fact, we are happy to answer any questions you have at at point either on the phone or by email.
Below are some of the details of our buckskins and accoutrements that may answer some of the questions you have and some you may not know you had until you see the answers.
A Look At Hunting Pouches
We make a number of styles of hunting pouches. To see all of them go to  ALL BUCKSKINS in our shopping cart.
Inside Hunting Pouch is a small buckskin pocket and there is also a buckskin divider in the main body.
A-1 FRONTIERSMAN SHIRT  and  A-3 FRONTIERSMAN COAT
The Frontiersman Shirt has the same features as the Frontiersman Coat below but with a upper laced front closure at the neck.
 Daniel Boone Reproduction Outfit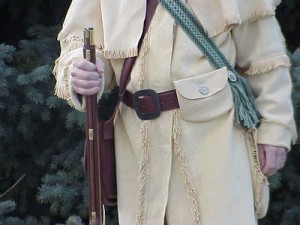 This eastern hunting frock features a cape which can be made detachable upon request.  The wide belt
has a hand forged buckle and can be ordered with square or round shape.  Notice the belt pouch that is
his left side. For more information about the complete Daniel Boone Outfit go to the Museums~Educational~
Our badger, red fox, and coyote hats have a full buckskin liner in them for comfort and fit. If you order the brimmed option it is made from oiled cowhide and has a laced edge.  We use the entire pelt on each hat.
 A-2 Rifleman Shirt and Rifleman Coat Option
The rifleman shirt and coat have 4 inch cuffs that are laced at the hem edge. They have capes that can be ordered permanently attached or as detachable.