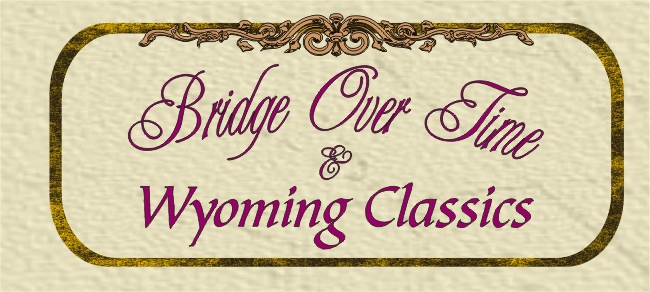 Antique

Pocket

Watches

&

Chains

Choose from our selection

below or email us with

your special request. We

have literally hundreds of

carefully refurbished

pocket watches of all kinds

from "everyday carry watches"

to "Collector Quality Pieces."

Email elaine@wyomingclassics.com

with your wishlist
Bridge Over Time and Wyoming Classics are happy to be able to offer you access to pocket watches that have been carefully cleaned and gone over and are ready for your enjoyment. This is only a small sampling of the many that are available. So, if you fancy a certain watch or specific maker please email us with your request. We will have our favorite watchmaker search his collection and we will get back to you with photos and pricing. If you have any questions about a particular timepiece that are not answered in the description details, please let us know and we will do our best to get an answer for you. Contact elaine@wyomingclassics.com and put WATCHES in the memo.
DISCLAIMER FOR ALL WATCHES:
WE DO NOT GUARANTEE THE TIMEKEEPING ABILITY OF ANY ANTIQUE WATCH. WE TRY TO MAKE SURE THAT ALL WATCHES ARE REASONABLY ACCURATE FOR THEIR AGE AND USE. THEY ARE ALL MECHANICAL WITH NO SHOCK RESISTANCE AS FOUND IN MODERN WATCHES. WATCHES CAN SOMETIMES BE DAMAGED DURING SHIPPING SO IF A WATCH ARRIVES AND IS NOT RUNNING, CONTACT US IMMEDIATELY FOR INSTRUCTIONS ON WHAT TO DO NEXT. EVERY WATCH IS SHIPPED WITH TRACKING INFORMATION AND WE CAN DETERMINE WHEN IT WAS DELIVERED SO DO NOT KEEP ONE FOR A WEEK AND SAY THAT IT WAS NOT RUNNING WHEN YOU RECEIVED IT. CHECK IT IMMEDIATELY UPON RECEIPT!!
SHIPPING-HANDLING-INSURANCE....
Watches ship for a FLAT RATE of $15 each. This covers good packing, shipping and insurance and proof of delivery option. It will be added onto the watch price as Additional Shipping Charge.
If you order a watch and other merchandise the watch will ship separately and the shipping charges that get applied to your bill at checkout will NOT include any additional amount for the watch but will be only for the other merchandise.
SAVE SOME SHIPPING COSTS ($15) and order a WATCH and WATCH CHAIN...below..at the same time you will pay only 1 shipping fee to cover both. We will adjust your total billing to reflect the lower amount before your card is processed and you will receive a revised receipt via your email. Of course, you may order over the phone at any time. 406-961-4317
Antique Watches..............(see Antique Watch Chains and Fobs below them)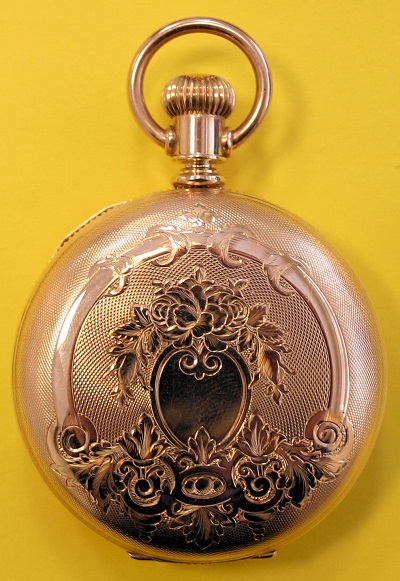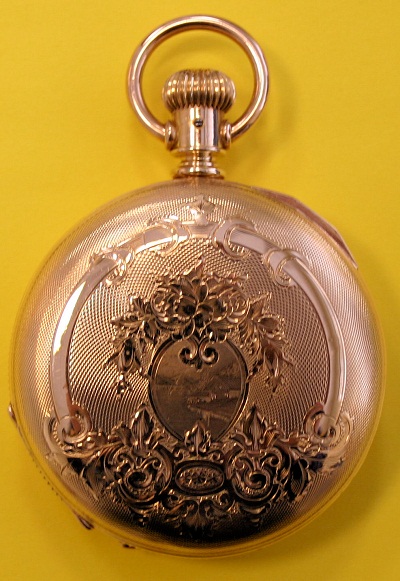 Watch #12 Add to Wagon
Waltham 18 size, 15jewels, adjusted Crescent Street grade. No initials in the shield, river and mountain scene on the back lid, hand engraved, c.1891 Price $495.
Sale Subject to Disclaimer Above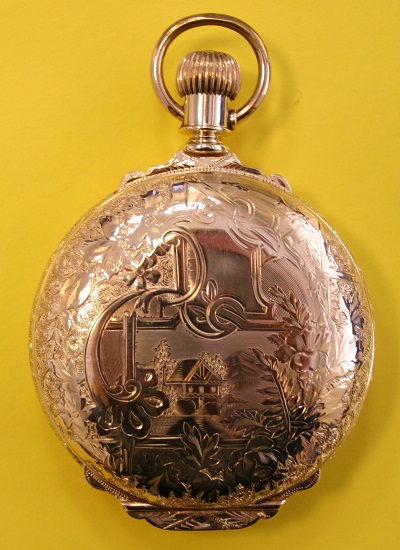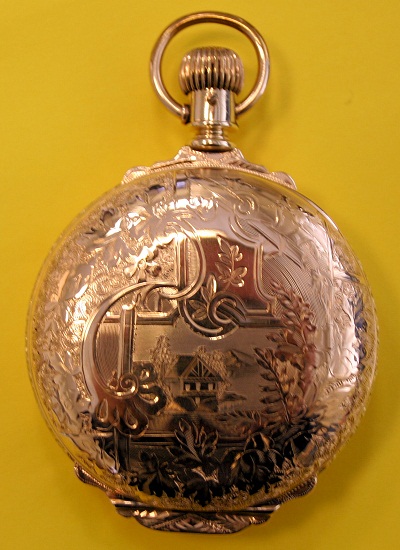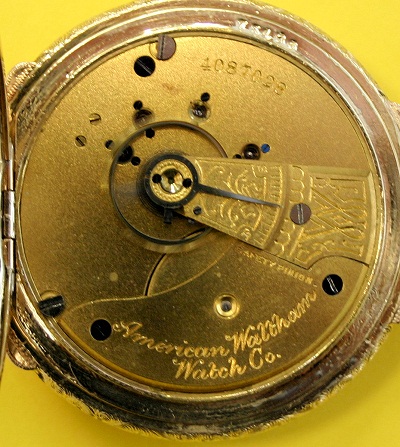 Watch #14 Add to Wagon
AboveWaltham 18 size, 11 or 13 jewels. No initials in the shield, farm scene on the front and back lid, "Box Hinge Case", hand engraved, c.1888. Box hinge cases command a substantial premium and this one is very nice.
Price $660 Sale Subject to Disclaimer


TO SEE ALL OF OUR POCKET WATCHES CLICK HERE
Then type WATCHES in the top search box and SEARCH. All the watches in our current selection will be on the resulting page. Then you can CLICK on each watch to be taken to a page with many pictures and more information and where you can order the watch.
Antique Watch Chains- Some with Fobs
CHAIN 1

T12" Yellow Gold Filled chain. I

$125
CHAIN 2 - $175

It is 13" long and has a Masonic fob. Gold filled.
Pocket watch chain with stone fob. $200
SOLD
CHAIN 4- $125
This chain is a slide type and of medium weight approximately 12" long with a key attached at one end and does not belong to nor go with this chain. It has two tassels for fobs. The chain has both yellow and rose gold colors with round T bar and a hook. This chain is gold filled and foreign made of very high quality. The slides appear to be enameled. Add to Wagon