Here at Bridge Over Time/ Wyoming Classics we are working hard to provide excellent customer service and quality workmanship in everything that we sell. Below are some happy customers who wanted to share their experiences.
The following is from a customer in Europe. Customs held up his order for a while but this is what he wrote when he got his shirt and neckerchiefs.
Hello Elaine, Finally ! I received the shirt today, tried it on and it fits like a glove! I am really happy with the wonderful craftsmanship, the quality and color of the fabric, the measurements. Plus the fabric is so soft that the shirt can be worn without a T shirt under. It doesn't feel scratchy…Once again congratulations on the great work you've performed. My wife who does a little sewing is impressed by your work and said the shirt fits me perfectly. Thank you for the awesome job.
Noah, above, got this hat for Christmas. His dad ordered it from us and it is the largest coyote pelt we have ever made into a hat.  We also made the shirt he is wearing with it and the mountain man belt.
---
The following is from a man who ordered his son one of our Frontier Shirts made of homespun check and also a mountain man belt to wear over it. From: Devries, David Sent: Monday, June 06, 2011 2:59 PM Elaine, The shirt and belt are FANTASTIC! My son is going to be so proud to wear them this weekend. Thanks so much for making your products available. There will be about 100 boys at this event this weekend in Chandler, OK, all dressed in their period clothing. It's the annual Royal Ranger Pow Wow for our state. I'll be sure to tell them about Wyoming Classics and Bridge Over Time. David DeVries We are a couple of good Dutchmen trying to have a little fun.
---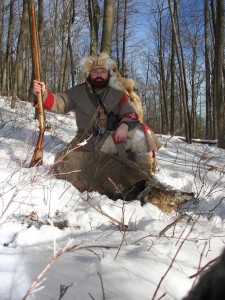 Here is another from a repeat customer: Elaine, Just thought I'd send you a pic of the deer I shot today with the rifle I built.  Was wearing the buckskins and the hat you made as well.  Temps were below zero…..my head never got cold though. I also attached another pic that doesn't have anything dead in the photo but has some of your product in it. Chris Denmon
---
We made a drop sleeve mountain man shirt in osnaburg for a customer in Golden, Colorado. He demonstrates the blacksmith trade at living history events and will be wearing one of our shirts this season. He has also ordered a blanket shirt for the cold weather which we are working on. Venny from Golden, Colorado wrote: Hi Elaine, Of all my period shirts, I like this one the most.  Elaine is a genuine craftsman.
---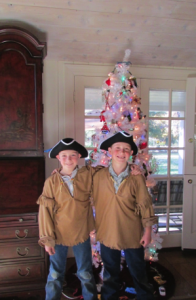 This family ordered some Faux Buckskins, made from fabric, for their sons as Christmas Gifts. The boys have been studying this time in history and creative play in their outfits in the family orchard.  They sent some great pictures and a note: The boys LOVE their shirts!!! SO much excitement!!! They love them so much they are wearing BOTH right now…and it is almost 80˚ here in San Diego today! Here are some pictures… Thank you Thank you!!! I think as soon as they are through a teenage growth spurt, we will get them genuine buckskins!  These are so perfect for them! Both boys made a necklace from the bear claw immediately and are now out the door playing in the woods!! Christ is Born, Alleluia!! Thanks again, Elaine
---
From: robert cavanaugh Sent: Saturday, April 02, 2011 9:52 AM To: Elaine Subject: WOW!! Hi Elaine,   I received my package today and I absolutely love everything! I tried everything on to see how they looked and everything is so nice and they fit so well. The moccasins are awesome and look great with my favorite jeans. The shirts are incredible and my wife commented on how well they are made. I do have a favorite shirt out of them all. It is the plumolivetanprint. They are all beautiful though, the plumolivetan shirt I think looks the best on me. My wife likes the deeppurpleblackfloralprint the best. Thank you for saving them for me. I will keep in touch and your website is in my favorites. I will consider a vest in the the future perhaps. Thank again.   Sincerely, Rob
---
Hi Elaine,   I just wanted to send you a pic of the outfit you made me.  I wore it last weekend at our TX State SASS Match and got lots of compliments. Thanks, KK   Best Regards
---